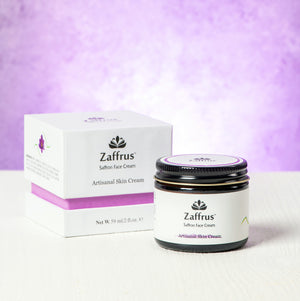 Zaffrus
Saffron Face Cream
Sale price Price $35.99 Regular price
Zaffrus's organic saffron threads are soaked in rose water and blended with nourishing ingredients to provide you with Saffron Face Cream. The saffron-infused rose water, and the essential oil of saffron is used in an aromatic blended face cream, designed to nourish and protect the skin.
Saffron Face Cream supports healthy pigmentation, brightens the skin tone, reduces wrinkles, and protects the skin against environmental toxins. The essential oils of saffron, lavender, sandalwood, sweet orange, and rosewood smell divine, and provide added nourishment to our skin, the body's largest organ.
Saffron Face Cream is an ALL-NATURAL product. A tiny bit is all that is needed, as this product is super concentrated. Saffron Face Cream is also an excellent massage cream and can be used to relieve aches and pains. Use on oily, normal, or dry skin. Please enjoy the effects of our luscious skin cream.
Benefits of Saffron Face Cream:
Diminishes fine lines, wrinkles, age spots, and scars.
Brighten skin tone
Reduces dark circles
Relieves aches and pains
Alleviates congestion
Soothes bites, bruises and rashes.
Ingredients:
SWEET ALMOND OIL, COCONUT OIL, OLIVE OIL, LANOLIN, ALOE VERA GEL, ROSE WATER, UNREFINED SHEA BUTTER, BEESWAX, VITAMIN E, CELTIC SEA SALT, SAFFRON THREADS, BORAX. Essential Oils Of: SAFFRON, LAVENDER, ROSEWOOD, SANDALWOOD, SWEET ORANGE.