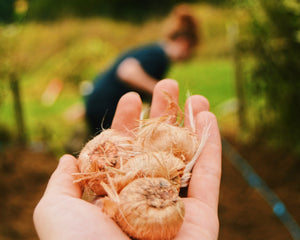 Zaffrus
Saffron Bulbs
Sale price Price $9.99 Regular price
Plant your own saffron bulbs in your garden or in a pot and enjoy the beauty of this precious flower.
The size of the corms in this package is 9/10. The size indicates the circumference of the Crocus Sativus bulb in Centimeters. Bulb sizes for Crocus Sativus range from 7/8, 8/9, 9/10 & 10/+ CM. We recommend that you start with at least size 9/10.
We have recently started our organic saffron farm in Macungie, PA. It is a lot of fun and we'll be proud to offer you PA grown premium saffron. So we decided to offer saffron corms to our customers as well to experience having this beautiful flower in your own place and grow the saffron love culture.
Here is a video of planting saffron in a pot
Name: Crocus Sativus L (Saffron Flower)
Recommended Hardiness Zone: 3A - 10B
Depth: 4-6 inch in a pot, 6-7 inches in the garden
Watering: Mild/Low

We are a licensed nursery dealer in the state of Pennsylvania.